The New Black Eagle Jazz Band played its first gig on the Peter Stuyvesant, a boat which used to be moored alongside the Pier Four restaurant in Boston harbor. The date was 30th September, 1971.

Four of the members of that band had been in the Black Eagle Jazz Band led by Tommy Sancton. Tommy was from New Orleans and, while attending Harvard University had, in 1969, put together a band with Tony Pringle on trumpet, Jim Klippert on trombone, Eli Newberger on piano, Dave Duquette on banjo and Ray Smith on drums. This band, the Black Eagle Jazz Band, used a number of string bass players as and when they were available - Joe Sah and Norm Stowell spring to mind.

In 1970 the Black Eagle Jazz took up residence in Passim's Coffee House across from the Harvard Coop in Cambridge, Massachusetts and played there regularly until they broke up in late spring 1971.

During 1970 there were two changes in personnel. Peter Bullis replaced Dave Duquette who moved to Dallas, and Pam Pameijer replaced Ray Smith. (Ray became the drummer with and leader of The Paramount Jazz Band). Also during 1970 Tony changed from trumpet to cornet - a move he has never regretted.

In late 1970 the band acquired a singer - Bonnie Bagley. This band with Chester Zardis on bass played at the 1971 Jazz & Heritage Festival in New Orleans. Chester later came up to Boston and played at Passim's; a party at Harvard University; in Needham with a band featuring Stan Vincent and Stan MacDonald (later of the New Black Eagles); and also recorded with the band.

Immediately after the New Orleans appearance, which was the swan song of Tommy's band, there was a gig in Worcester by the Boston Bayou Jazz Band. This band featured Tony Pringle, Pam Pameijer, Peter Bullis and Eli Newberger from the old Black Eagle Jazz Band. Added were Stan Vincent on trombone, Stan MacDonald on clarinet and soprano sax, and Norm Stowell on string bass. We dodged a bullet - the name didn't stick!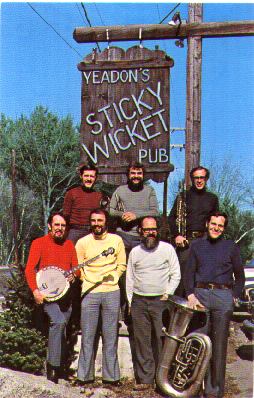 This same band with Eli on tuba and with Bob Pilsbury added on piano played on the previously mentioned Peter Stuyvesant as the New Black Eagle Jazz Band on 30th September, 1971. In October of that same year the band started a residency at the Sticky Wicket Pub in Hopkinton, Massachusetts. We looked sort of different back then!

The only changes of personnel until 2001, when Eli left the band, were to the clarinet chair. In 1980 Brian Ogilvie replaced Stan MacDonald; in 1981, Hugh Blackwell took over; and Billy Novick replaced Hugh on Thanksgiving in 1986.

For many of our fans the Sticky Wicket Pub is always associated with our name, but we did do and still do much more than just play pub gigs. The Sticky Wicket was the place where we could roll out our newly learned tunes, where the audience was forgiving, where Tony could imbibe his then favorite "draught Bass". It was a combined performance, rehearsal, and social occasion.

The Black Eagles over the last forty-plus years has also developed another side to it's performing. About half of our appearances in any year are in a concert setting. We play many community concerts throughout the greater New England area. For a time in the 1970's and 1980's we were funded by the New England Touring Foundation and this enabled us to bring our music to many audiences that would not otherwise have been exposed to traditional jazz or jazz in any style.

Many of our concert appearances have been and are as the only jazz band in a classical music concert series. One such is our annual performance at the Mount Gretna Playhouse in Pennsylvania. Karl Ellenberger, who used to run the music at Mount Gretna concert series, heard us on a 1976 broadcast of Morning Pro Musica, a classical music program put out by PBS. He contacted us, we went and played a Friday and a Saturday concert and have been booked back every year since. Some years ago we added a church service on the Sunday morning which attracts an overflow audience and is hugely popular.

Another page on this web site lists most, if not all, of the venues at which we have performed over the years. We have played many times in Europe, Canada, all over USA, and in Singapore. The venues have been concert halls, jazz clubs, jazz festivals and numerous appearances with symphony orchestras.

These last are the result of us making an investment in a number of arrangements for symphony orchestra to which we have since added. Special highlights have been the appearances with The Boston Symphony, The Baltimore Symphony and The Scottish National Orchestra. A particularly invigorating experience were our 2002 performances with the Euregio Jeugd Orkest, a bunch of very talented youngsters from Brabant, Limburg, Vlaanderen in Holland and from Germany.

We have played for schools, played weddings, performed workshops and broadcast for PBS radio, PBS has also used us for a couple of TV shows. One back in the late 1970's, Roaring Through The 20's, featured us with Claude Hopkins and Bobby Short. In December 2002 we performed for the "This Old House" show, again for PBS.

It has been our pleasure to perform with a number of celebrated and historically important jazz figures over the years. These include Claude Hopkins, Milt Hinton, Doc Cheatham, Benny Waters, Chester Zardis, Danny Barker and Kid Thomas Valentine.

During all this time we have continued to perform at one or other of our regular venues, usually on a Thursday evening. These gigs still provide the opportunity for us keep in shape and try out new, or recently rediscovered old, material on our not so unsuspecting audiences.

The Sticky Wicket gig finished in November 1990 - our last appearance featured Danny Barker and Tommy Sancton as guests. From 1990 until 1995 the band's regular gig was at The Old Vienna Kaffeehaus & Restaurant in Westborough, Massachusetts and from March 1996 until May 1998 our home was at The Coffee, Tea & Melody in Stow, Massachusetts.

During much of 1998 and 1999 the band was without a permanent regular gig. We played until October 1998 in a hangar at Stow Airport and then, because the weather gets pretty cold around here, we moved to the Old Stow Town Hall where we could be found until the end of March 1999.

In late 2000 we started three regular gigs all on Thursday evenings. We went into the Cactus Grille, formerly the Sticky Wicket Pub in Hopkinton; The Sherborn Inn in Sherborn; and J.P. O'Hanlon's Pub in Ayer. None of these gigs are active any more.

In June 2001 Eli Newberger left the band and we started to use one of two bassists; Don Kenney and Barry Bockus.

Following a very successful tour of England, Wales, and Scotland in 2004, we returned to the UK again in 2006 for a tour of England, which also featured an appearance at The Holywood Jazz Festival in Northern Ireland.